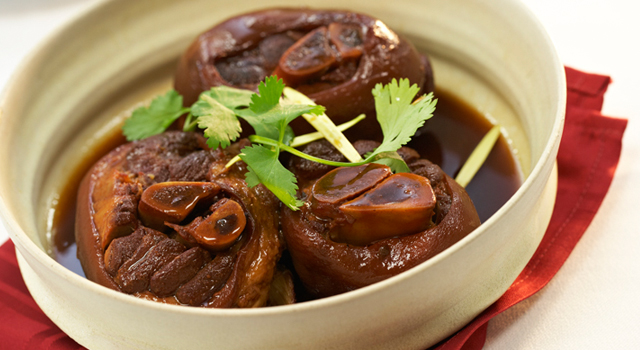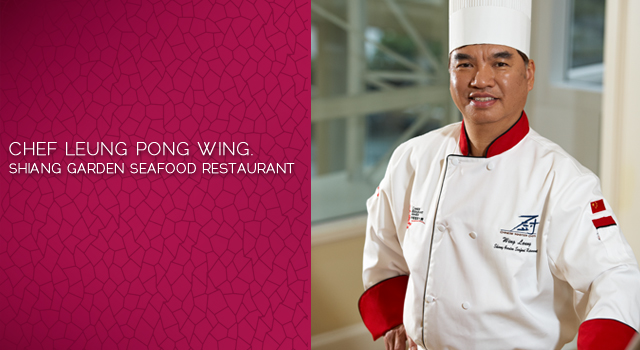 Taiwanese Style Braised Alberta Ham Hock by Chef Leung Pong Wing
This is one of Shiang Garden Seafood Restaurant's signature dishes in Taipei. Hoping to bring the it to Vancouver, restaurant owner Mr. Hsia has asked Chef Wing Leung to modify the recipient with the best Canadian ingredients, such as ham hocks from Alberta.

INGREDIENTS
3 Alberta ham hocks
(2 lbs in total and approx 2 in. thick each)
SAUCE
3 star anise
1-2 chopped spring onion
2 slices of ginger
2-3 cloves of shallots
2 rock sugar
2 tsp red rice
2 tbsp Amoy Golden Label Dark Soy Sauce
3 tbsp Amoy Golden Label Light Soy Sauce
3 tbsp Amoy Oyster Sauce
1 tbsp Amoy Chu Hou Sauce
3 cups of water

STEPS
1. Remove hair from ham hocks and rinse. Put ham hocks into boiling water, remove when water re-boils; rinse again.
2. Place bamboo tray inside clay pot; put ham hocks on tray.
3. Heat oil in pan over high heat to make sauce. Stir-fry spring onion, ginger, and shallots. Add remaining sauce ingredients in the pan.
4. Fill clay pot with sauce until it covers the ham hocks; add water if sauce is not enough.
5. Cover and braise for at least 2.5 hours.
6. Put the ham hocks on plate. Add a mixture of cornstarch and water directly into clay pot and thicken sauce. Pour it over ham hocks before serving.
*Tips:
Placing a bamboo tray inside a clay pot helps prevent the ham hocks from sticking to the bottom.

TASTE THIS CULINARY CREATION AT:
Shiang Garden Seafood Restaurant
Suite 2200-4540 No. 3 Rd,
Richmond, BC V6X 2C2
Tel: (604) 273-8858