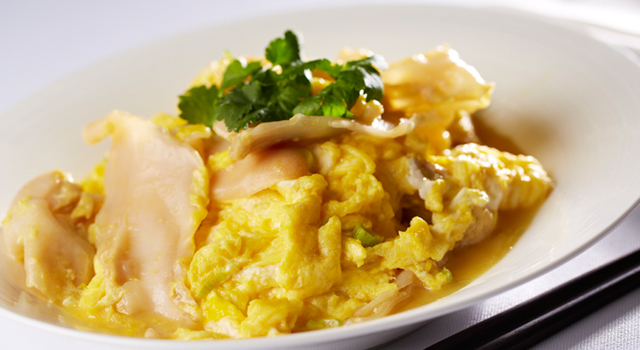 Stir-fried B.C. Geoduck with Eggs by Chef Ming Yeung
Many people enjoy B.C. live geoduck by quickly cooking the thin slices in broth, but there are other creative ways to prepare the delicacy. Chef Ming Yeung has modified the original Stir-Fried Lobster with Egg, a popular dish recommended by Chinese Restaurant Awards judge Stephen Wong, for this new geoduck recipe.

[juiz_sps buttons="facebook, twitter, pinterest, weibo, linkedin, mail"]

INGREDIENTS
1 whole geoduck (approx. 2 lbs)
8 large eggs
1 tsp white sections of spring onion
¼ tsp salt
1/8 tsp sesame oil
1/8 tsp white pepper
STEPS
1. Dice white sections of spring onion.
2. Put eggs in a bowl and gently whisk in one direction. Add salt, sesame oil, and white pepper.
3. Halve geoduck and cut into thin slices. Quickly cook geoduck in boiling water for 30 seconds and remove.
4. Heat pan on low; coat pan evenly with one teaspoon of oil.
5. Add eggs in pan and stir-fry until 70% cooked.
6. Add geoduck and mix with eggs. Stir in spring onion before serving on plate.
*Tips: In order to achieve smoother texture for the eggs, avoid bubbles when whisking.
This recipe is supported by Underwater Harvesters' Association

TASTE THIS CULINARY CREATION AT:
Bamboo Grove
6920 No. 3 Rd.
Richmond, BC V6Y2C5
Tel: (604) 278-9585