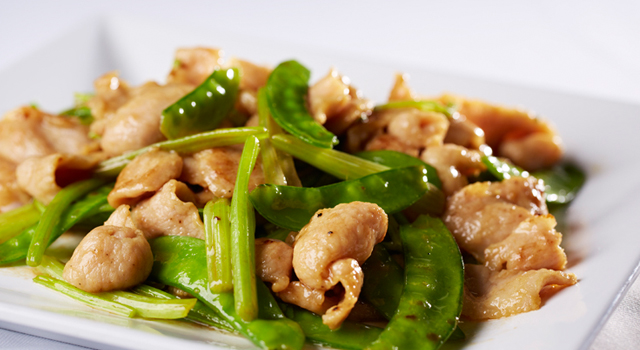 Stir Fried Alberta Pork Toro with Chinese Celery and Snow Peas by Chef Ming Yeung
Alberta pork toro has the right amount of chewy texture, making it a popular item for grilling on charcoal and cooking in hotpot. In this recipe, Chef Ming Yeung create a bright refreshing dish with stir-fries the pork toro with Chinese celery and snow peas.

INGREDIENTS
12 oz Alberta pork toro
150g snow peas
1 bunch of Chinese celery
4 slices of ginger
1 tsp minced garlic
1 tsp Amoy Oyster Sauce
MARINADE
1 tsp Amoy Golden Label Light Soy Sauce
¼ tsp sugar
½ tsp cornstarch
¼ sesame oil

STEPS
1. Cut pork jowl into slices and marinate for 20 minutes.
2. Heat a small amount of oil in wok over high heat; stir-fry pork jowl until 80% cooked; put aside.
3. Remove leaves and roots from Chinese celery; cut stalks into sections.
4. Remove two ends of snow peas. Cook snow peas and celery in pot of boiling water until 70% cooked.
5. Heat a small amount of oil in wok over medium heat; stir-fry ginger and garlic.
6. Add celery and snow peas, then stir. Finally, stir in pork jowl
7. Mix cornstarch, water, and oyster sauce together. Pour into wok and stir until sauce is thicken. Put on plate.

TASTE THIS CULINARY CREATION AT:
Bamboo Grove
6920 No. 3 Rd.
Richmond, BC V6Y2C5
Tel: (604) 278-9585