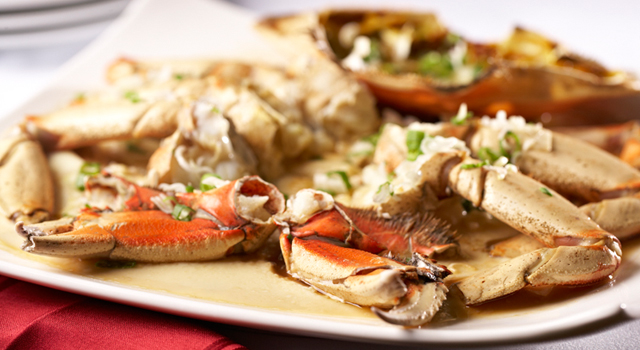 Steamed Eggs with B.C. Dungeness Crab and Green Onions by Chef Tony Luk
A traditional home cook dish that warms your heart, steamed egg is loved by many. Chef Tony Luk puts a twist on the classic comfort food by combining the sweetness of B.C. Dungeness crabs with the smoothness of steamed eggs.

INGREDIENTS
1 B.C. Dungeness crab (approx 2.5 lbs)
3 eggs
¾ tsp salt
12 oz cold water
1 tbsp diced spring onion
SEASONING
1 tbsp Amoy Golden Label Light Soy Sauce
4 tbsp water
1 tsp Maggi seasoning sauce
½ tsp sugar
½ tsp chicken bouillon powder

STEPS
1. Clean crab and cut into pieces; absorb water with a dry towel. Put crab pieces on large plate and crab shell on small plate facing down.
2. Put eggs in bowl and whisk in one direction. Add salt and water.
3. Add 4/5 of eggs into large plate which covers half of crab pieces. Pour remaining eggs into crab shell.
4. Steam crab pieces and eggs over high heat for 15 minutes until it shines. Sprinkle spring onion.
5. Heat pan on low, add oil and seasoning ingredients. Pour sauce over steamed egg.

TASTE THIS CULINARY CREATION AT:
The Jade Seafood Restaurant
8511 Alexandra Rd
Richmond, BC V6X 1C3
Tel: (604) 249-0082