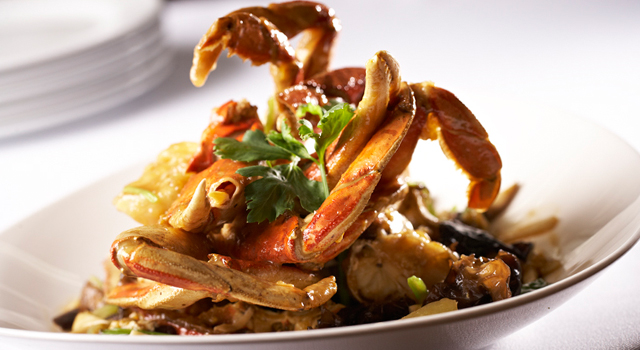 Sautéed B.C. Dungeness Crabs with Mixed Mushrooms and Chinese Celery by Chef Wing Ho
Recognized for its detoxifying agent, wild wood ear is a popular ingredient in Chinese cuisine. Chef Wing Ho creates a wholesome recipe by pairing the magical fungus with B.C. Dungeness crabs and a mixed of vegetables.

[juiz_sps buttons="facebook, twitter, pinterest, weibo, linkedin, mail"]

INGREDIENTS
1 B.C. Dungeness crab (approx 2.5 lbs)
8 slices of ginger
4 garlic
60g dried wild wood ear
80g Chinese celery
80g king oyster mushroom
60g green bell pepper
60g red bell pepper
2 spring onions
SEASONING
2½ tbsp Amoy Oyster Sauce
2½ tbsp Amoy Golden Label Light Soy Sauce
1 1/3 tsp chicken bouillon powder
2½ tbsp sugar

STEPS
1. Clean crab and cut into pieces. Deep-fry crab over high heat and put aside.
2. Soak dried wild wood ear in water.
3. Chop Chinese celery into sections; cut garlic into slices; dice mushroom, green, and red bell pepper.
4. Stir-fry ginger and garlic over medium heat; add vegetables. Finally, stir in crab.
5. Add seasoning ingredients. Mix water with cornstarch and add to wok. Ready to be served.

TASTE THIS CULINARY CREATION AT:
Fortune House Seafood Restaurant
4700 Kingsway
Ste 2199A
Burnaby, BC V5H 4M1
Tel: (604) 438-8686