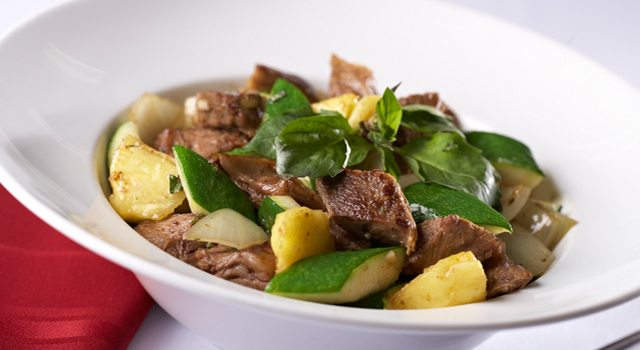 Sautéed Alberta Veal Breast with Morel Mushroom Sauce by Chef Tony Luk
High in protein and unique in taste, morel mushroom has gain popularity among Chinese chefs in recent years. Using this healthy ingredient, Chef Tony Luk creates a distinctive recipe that accentuates the tenderness of Alberta veal breast.

INGREDIENTS
1 lb Alberta veal breast
2 tsp salt
VEGETABLES
3 oz zucchini
1-2 oz diced pineapple
1-2 oz diced onions
A few finely chopped Thai basil
2 bay leaves
SAUCE
1 oz dried morel mushroom
1 oz Japanese mirin
4 tbsp brown braising sauce
2 tbsp butter
2 tbsp minced shallots
2 tbsp sugar
1/4 tsp flour
1/5 tsp black pepper
3 oz water

STEPS
1. Dice morel mushrooms after soaking and cleaning in water.
2. Pan-fry the mushrooms with a small amount of butter, stir in shallots and sauce ingredients. Put aside.
3. Add salt in water, braise veal breast for 45 minutes. Chop veal breast into cubes.
4. Heat butter over medium heat in pan until half-melted. Stir-fry veal cubes; put aside.
5. Stir-fry vegetables over medium heat. Return veal breast and sauce to pan.
6. Put Thai basil and bay leaves on top as garnish.
*Tips:
You can use Alberta beef tenderloin to replace veal breast. In that case, step 3 of braising the meat in salt water should be omitted.
—–
Internal cooking temperate of beef as recommended by Health Canada.
-77 C degrees for well done. -70 C degrees for medium.
—–

TASTE THIS CULINARY CREATION AT:
The Jade Seafood Restaurant
8511 Alexandra Rd
Richmond, BC V6X 1C3
Tel: (604) 249-0082