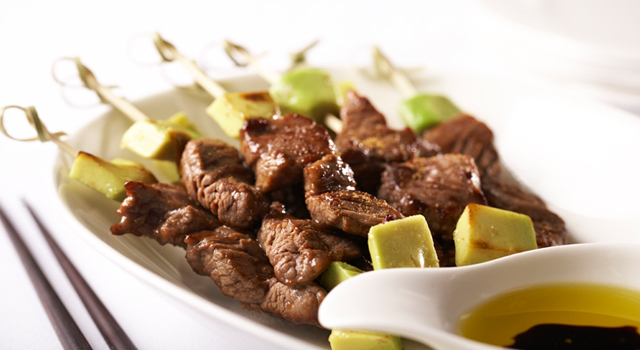 Pan-fried Alberta Beef Skewer with Cumin Powder by Chef Wing Ho
The bold flavour of Alberta beef tenderloin is enhanced with cumin powder in this recipe. Adding avocado to the mix elevates the nutritious value, making the dish popular among chefs at home.

INGREDIENTS
1½ lbs Alberta beef tenderloin
1½ avocados
½ tsp cumin powder
3 tsp olive oil
2 tsp balsamic vinegar
MARINADE
½ tsp Amoy Golden Label Light Soy Sauce
½ tsp Amoy Oyster Sauce
½ tsp sugar
¼ tsp chicken bouillon powder

STEPS
1. Clean beef tenderloin and cut into 12 pieces. Marinate for 10 minutes.
2. Cut avocados into 24 cubes
3. With a small amount of oil, pan-fry beef and avocado over medium heat.
4. Thread beef and avocados onto the skewers. Sprinkle with cumin powder.
5. Mix olive oil and balsamic vinegar together. Put on the side for dipping.
—–
Internal cooking temperate of beef as recommended by Health Canada.
-77 C degrees for well done. -70 C degrees for medium.
—–

TASTE THIS CULINARY CREATION AT:
Fortune House Seafood Restaurant
4700 Kingsway
Ste 2199A
Burnaby, BC V5H 4M1
Tel: (604) 438-8686