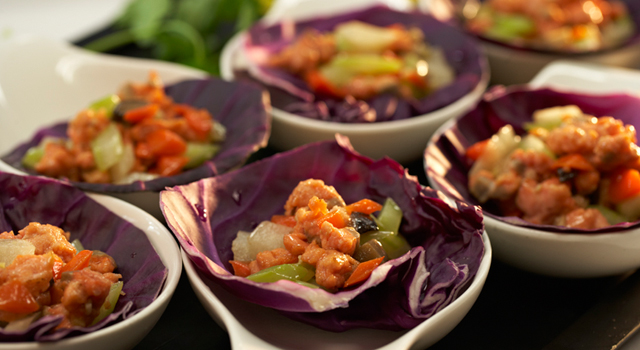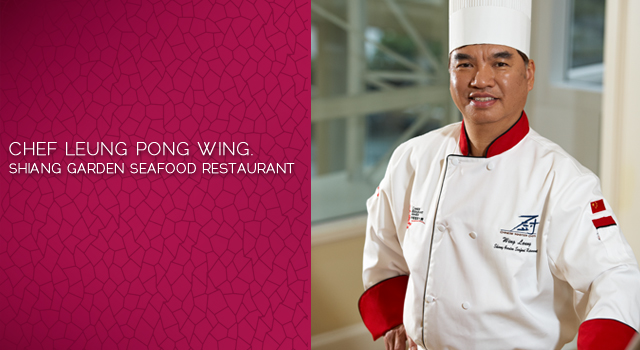 Minced B.C. Salmon Wrap in Beijing-Style by Chef Leung Pong Wing
B.C. is famous for its abundant source of fatty salmon. Pairing it with chili-bean sauce, a popular condiment in Beijing cuisine, Chef Wing Leung creates a spicy dish that intensifies the flavour of the fish.

[juiz_sps buttons="facebook, twitter, pinterest, weibo, linkedin, mail"]

INGREDIENTS
Approx. 670g B.C. salmon
½ tsp minced garlic
½ tsp minced ginger
2 oz jicama
1/3 tsp salt
6 red cabbage leaves
VEGETABLES
6 oz diced celery
2 oz diced red carrots
2 oz diced Shiitake mushrooms
SEASONING
1 tbsp Amoy Toban Chili Bean Sauce
1 tsp Amoy Oyster Sauce
½ tsp chicken bouillon powder
1/3 tsp sugar
1/5 tsp white pepper
1/5 tsp sesame oil

STEPS
1. Clean and chop salmon into cubes. Mix with pinch of salt, cornstarch, and oil.
2. Cook celery, carrots, and Shitake mushrooms with salt for 30 seconds.
3. Pan-fry salmon cubes over medium heat until they are 50% cooked; put aside.
4. Stir-fry garlic, ginger, and jicama over high heat; add seasoning ingredients.
5. Stir in salmon and vegetables. Mix cornstarch with water and add into wok. Divide and place in red cabbage leaves.

TASTE THIS CULINARY CREATION AT:
Shiang Garden Seafood Restaurant
Suite 2200-4540 No. 3 Rd,
Richmond, BC V6X 2C2
Tel: (604) 273-8858