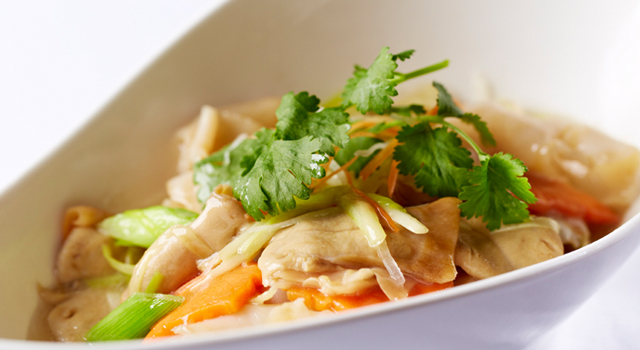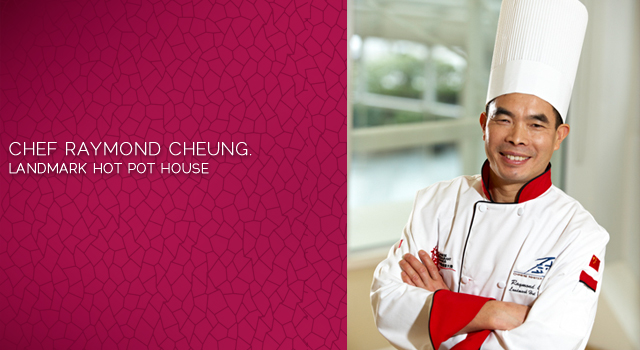 Flash Wok Fried B.C. Geoduck by Chef Raymond Cheung
According to Chef Raymond Cheung, the key in making this award-winning Critics' Choice Signature Dish at home lies in fresh ingredients and temperature control. At Landmark Hot Pot House, only the freshest geoduck is used. The owner of the restaurant Mr. Lee would source the ingredient personally everyday to ensure quality.

INGREDIENTS
1 whole geoduck (approx. 2.5 lbs)
1 bunch of yellow chives
3 slices of ginger
6 white sections of spring onions
30g sliced carrot
SEASONING
1 tsp salt
1 tsp chicken bouillon powder

STEPS
1. Put sliced carrot in a pot of boiling water; let it cook and remove as soon as water reboils. Cut yellow chives in sections.
2. Clean and halve geoduck; cut into strips. Quickly cook geoduck in boiling water; remove and put aside.
3. Stir-fry ginger, white sections of spring onions over medium heat. Add geoduck and carrot.
4. Stir in seasoning ingredients and yellow chives. Add a mixture of cornstarch and water to thicken the juice in wok. Ready to be served.
This recipe is supported by Underwater Harvesters' Association

TASTE THIS CULINARY CREATION AT:
Landmark Hot Pot House
4023 Cambie St
Vancouver, BC V5Z 2X9
Tel: (604) 872-2868