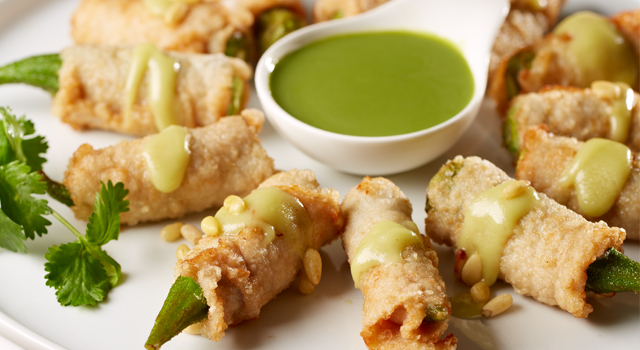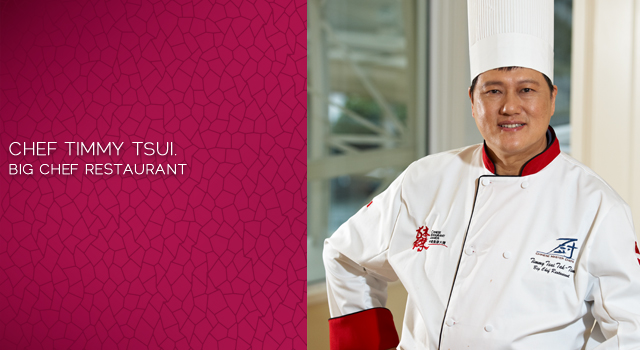 Deep-Fried Alberta Pork Tenderloin and Okra Rolls with Wasabi Honey Sauce by Chef Timmy Tsui
This recipe stimulates your taste bugs with a spicy sweet-and-sour sauce made from wasabi, honey, and mayonnaise. Using thinly sliced pork tenderloins and okras as the main ingredients, the dish is a both healthy and delicious.

INGREDIENTS
1 lbs Alberta pork tenderloin
10 okras
20g pine nuts
MARINADE
1 egg
1 tsp Amoy Golden Label Light Soy Sauce
1½ tsp sugar
1 tsp Maggi seasoning sauce
1 tsp worcester sauce
1 tsp cornstarch
A pinch of white pepper
SAUCE
1/3 jar of Kraft mayonnaise
¼ lb butter
3 tsp honey
1 tsp Japanese wasabi

STEPS
1. Cut pork tenderloin into ten 1/3" thick slices. Marinate for 30 minutes.
2. Lightly coat each slice of pork tenderloin with cornstarch; wrap okras with pork slices.
3. Heat a generous amount of oil over high heat. Deep-fry the pork-okra rolls until golden brown; put aside to cool.
4. Mix and heat butter, honey, and mayonnaise over low heat; add wasabi.
5. Pour sauce over pork okra rolls, sprinkle pine nuts on top.
*Tips:
Add eggs into the marinade can help tenderize the meat.
Okra originating from Africa is rich in vitamins and low in calories. Chef Tsui highly recommends this ingredient.

TASTE THIS CULINARY CREATION AT:
Big Chef Restaurant
1060 – 8580 Alexandra Road
Richmond, BC V6X4B3
Tel: (604) 207-0386