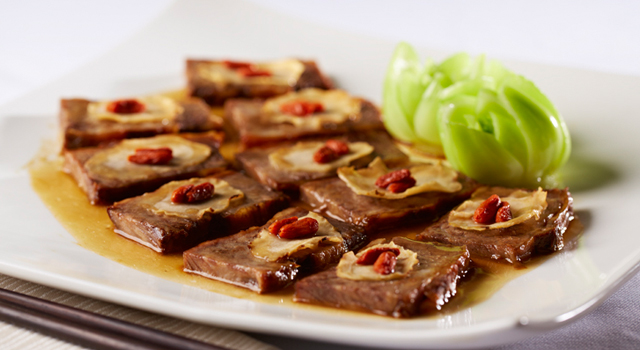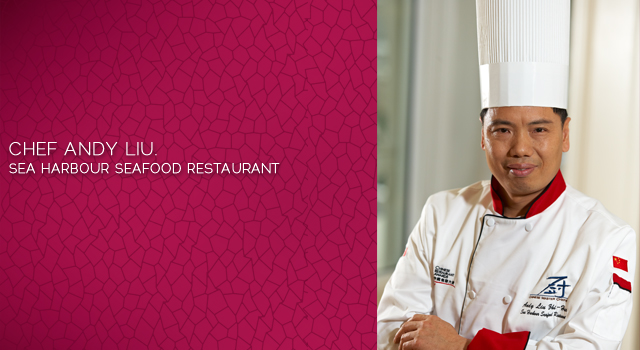 Braised Alberta Beef Rib with Ginseng and Goji Berries by Chef Andy Liu
American ginseng and goji berries often appear in Chinese soup recipes. With some creativity, these ingredients can be used in other dishes. With the simmering method, Chef Andy Liu combines the bitter sweetness of American ginseng with the boldness of Alberta beef rib.


INGREDIENTS
3 lbs Alberta beef ribs
2 Shanghai bak choy
A bunch of green onions
2 slices of ginger
½ lb shallots
Amoy All Purpose Marinade
10 slices American ginseng
20 goji berries
2 star anise
3 bay leaves
A bunch of cilantro
125ml Amoy Golden Label Light Soy Sauce
½ box of rock sugar
1 can of chicken stock
STEPS
1. Debone beef ribs. Put beef ribs into pot of boiling water, remove when water reboils; clean and rinse in water.
2. Heat oil in pot over high heat. Saute spring onions, ginger and shallots.
3. Add remaining ingredients into pot except bak choy. Add Amoy All Purpose Marinade according to your preference
4. Simmer over low heat for 1 hour. Transfer beef ribs to a bowl for cooling; slice ribs into pieces and serve on a plate.
5. Boil a pot of water and cook baby bok choy for garnish.
6. Mix cornstarch and water; add to pot to thicken sauce. Pour it over beef before serving.

—–
Internal cooking temperate of beef as recommended by Health Canada.
-77 C degrees for well done. -70 C degrees for medium.
—–

TASTE THIS CULINARY CREATION AT:
Sea Harbour Seafood Restaurant
150-8888 River Road
Richmond, BC V6X 1Y7
Tel: (604) 232-0816