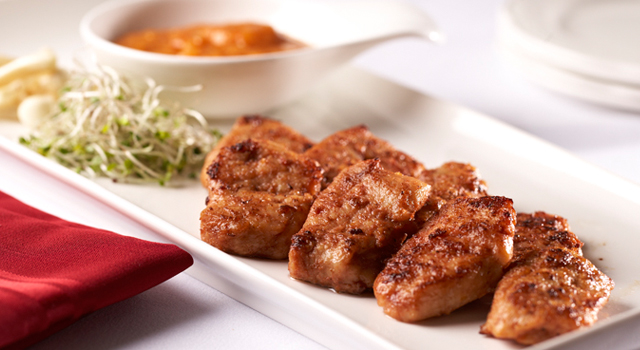 Pan-fried Alberta Pork Fillets with Shrimp Paste, Fermented Red Beancurd and Tomato Paste by Chef Tony Luk
Chef Luk often takes on the challenge of creating original sauces for a wide range of ingredients. For this recipe, he uses shrimp paste, fermented red beancurd, and tomato paste to create a savoury pork dish.

INGREDIENTS
½ lb Alberta pork tenderloin
2 oz white shimeji mushrooms
MARINADE
½ tsp shrimp paste (preferably from Tai O village in Hong Kong)
½ tsp fermented red beancurd
2 tsp cornstarch
½ tsp Chinese rose wine
3 oz water
SAUCE
4 tbsp fermented glutinous rice
2 tbsp tomato paste
2 tbsp diced ginger
4 tbsp cornstarch
2 tbsp Maggi seasoning sauce
2 tbsp minced garlic
2 tbsp chili garlic sauce
1 tsp chicken bouillon powder
¼ tsp salt
4 tbsp chicken stock
4 tbsp sugar

STEPS
1. Cut pork tenderloin into 8 slices. Tenderize pork by pounding it with knife's spine. Marinate pork with shrimp paste and fermented red beancurd.
2. Add water, Chinese rose wine and cornstarch to marinated again for 2 hours.
3. Saute ginger and garlic over low heat. Add remaining sauce ingredients, thicken it with a mixture of cornstarch and water.
4. Saute shimeji mushrooms with butter over low heat. Use as garnish.
5. Sear both sides of pork over medium heat. Turn heat to low until pork slices are fully cooked. Absorb excess oil with blotting paper before plating.
6. Put sauce on the side for dipping and garnish plate shimeji mushrooms.

TASTE THIS CULINARY CREATION AT:
The Jade Seafood Restaurant
8511 Alexandra Rd
Richmond, BC V6X 1C3
Tel: (604) 249-0082