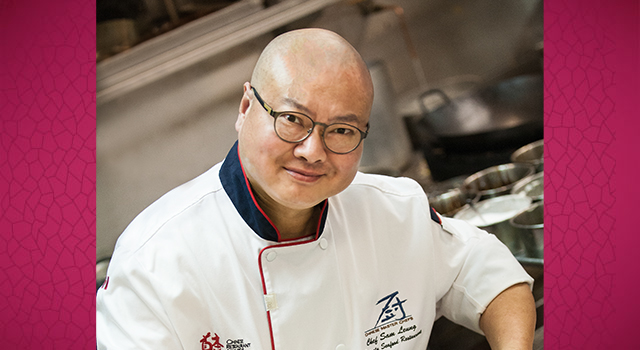 Roasted Fraser Valley Duck Leg, with Cognac by Chef Sam Leung
This Fraser Valley Duck dish is delicately created by Master Chef Sam Leung for the Awards' relaunch of Chinese Master Chefs 2017 and the East Meets West Vancouver Collaborative Feast on December 2nd, 2016.


INGREDIENTS
1 fresh Fraser Valley Duck Leg
Hennessy Cognac
1/2 apple
1/2 lemon
MARINADE
1/4 cup Italian balsamic vinegar
1/4 cup red wine
3 tbsp Lee Kum Kee Cha Siu Sauce
1 tbsp butter
1 tbsp sugar
1 tsp Lee Kum Kee Oyster Sauce
2 tbsp French Dijon mustard

STEPS
1. Wash the apple, cut two slices from the center.
2. Soak the apple slices in lemon juice and sugar. Use as garnish.
3. Dice the remaining apple. Cook the apple, balsamic vinegar, mustard, butter, sugar and oyster sauce. Use a blender to blend the sauce into smooth form.
4. Debone the duck leg and form it into a duck-leg steak.
5. Marinate with Lee Kum Kee Cha Siu sauce and Cognac for 24 hours.
6. Roast the duck leg for 20 to 30 min at 325˚F.
7. Put the apple on plate and put the roasted duck leg on top of it. Pour sauce over the duck leg or on the side. Spray cognac over.

This recipe is supported by Fraser Valley Specialty Poultry and Lee Kum Kee Canada

TASTE THIS CULINARY CREATION AT:
Dynasty Seafood Restaurant
777 W Broadway #108,
Vancouver, BC
V5Z 4J7
Tel: +1604 836 8388
Food photography by Leila Photography and Chef portrait by Debbie Cheung