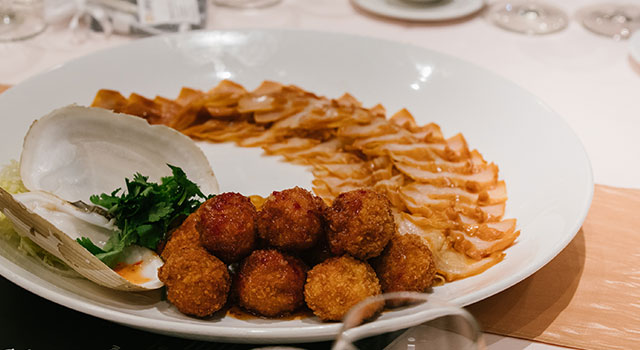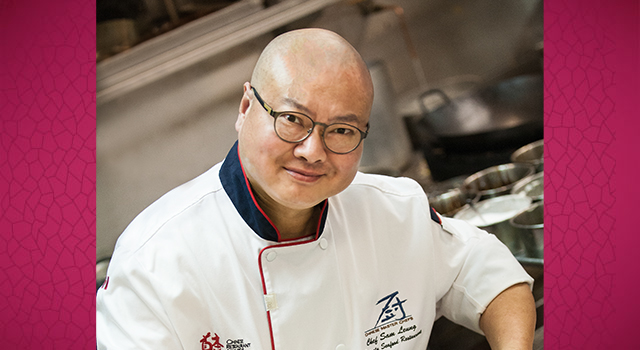 Duet: BC Geoduck two ways by Chef Sam Leung
This BC Geoduck dish is delicately created by Master Chef Sam Leung for the Awards' relaunch of Chinese Master Chefs 2017 and the East Meets West Vancouver Collaborative Feast on December 2nd, 2016.


INGREDIENTS
1 whole geoduck (approx. 2.5lbs)
2 cups ground shrimp
1 onion
6 cups spiced soy sauce*
½ cup fine breadcrumbs
*Chef Leung recommends using a store-bought spice pouch to make the spiced soy sauce. Boil it with water, ginger, green onion, rock sugar, Shaoxin rice wine, black soy sauce, and soy sauce. Let it cool before using.

STEPS
1. Dice the geoduck head and mix the head with ground shrimp until sticky, roll into balls, and coat with breadcrumbs. Set the shell aside for plating.
2. Clean and halve the geoduck's body.
3. Quickly cook geoduck in boiling water for 10 sec. Remove and soak in ice water.
4. Marinate the geoduck's body in spiced soy sauce for 3 hours. If the geoduck is small, only marinate for 5. hours.
6. Julienne the onion and soak in spiced soy sauce for 1 to 2 hours. Remove and use as garnish for the geoduck slices.
7. Cut the geoduck's body into thin slices and plate on the onion.
8. Deep fried balls in high heat for 8 min. Put balls in the cleaned geoduck shell.

This recipe is supported by Underwater Harvesters' Association

TASTE THIS CULINARY CREATION AT:
Dynasty Seafood Restaurant
777 W Broadway #108,
Vancouver, BC
V5Z 4J7
Tel: +1604 836 8388
Food photography by Mayowill Photography and Chef portrait by Debbie Cheung