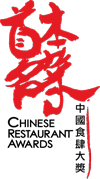 Skillful, creative, and passionate, these are some of the qualities of a great chef. Yet, gaining the title of a master requires so much more. The Chinese Restaurant Awards created the Chinese Master Chefs program to honor talented chefs who not only have achieved success in their own rights, but also value traditions and blaze a trail for many aspiring young chefs in the Chinese culinary industry. Through this program, the public can learn about the Masters' culinary journeys and their creative use of Canadian freshest ingredients.
Eight chefs, who collected most accolades from the Chinese Restaurant Awards, were selected in 2013 to be the program's inaugural chefs and create new dishes with Canadian ingredients. In 2014, the program expanded internationally and invited award-winning chefs outside of Canada to present their signature dishes at the Chinese Master Chefs Gold Metal Dinner. Today, the Awards continue to showcase chefs who are worthy of the title.
The Production Team
Executive Producer:
Producer:
TVC Production:
Director of Photography:
Video Editor:
Still Photography:
Food styling:
Craig Stowe
Rae Kung
Mike Kam(2013 & 2014) and Edward Tang(2016)
Baurzhan Dosmagambetov
Tracey Kusiewicz (2013 & 2014) and Edwin Chan(2016)
Debbie Cheung, Tracey Kusiewicz, Rae Kung
Chinese Restaurant Awards
Founding Director: Craig Stowe [ craig@chineserestaurantawards.com ]
Founding Chair of Judging Panel: Stephen Wong [ critics@chineserestaurantawards.com ]
Project Manager: Rae Kung [ rae@chineserestaurantawards.com ]
For any inquiries, please contact us via the form below.